2D Retro Space Shooter Assets
This asset pack is perfect if you are planning to work on a SHMUP or Space Arcade game. It doesn't matter if you need assets for a prototype or a commercial project – you are covered with the big amount of available elements (units, effects, terrain, buildings, UI…). If that is not enough, you can easily combine existing sprites & effects to create custom ones and on top of that, thanks to the limited by stylized color scheme you can easily create custom color variations.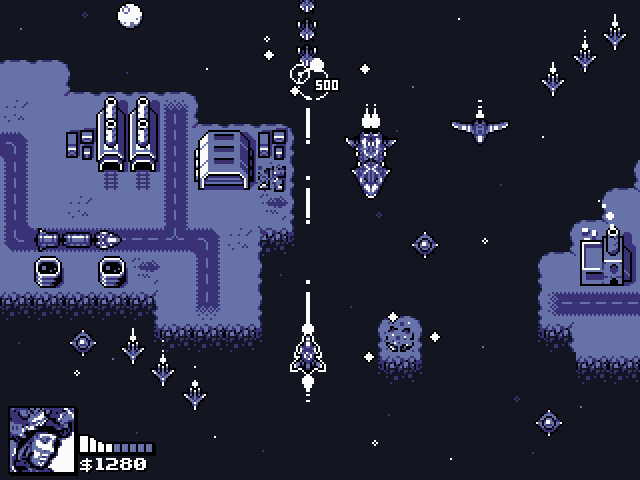 ============ Content ============
25x spaceships
1x boss

Constructed from 3 parts with variations & destroyed state

6x space bodies (planets/asteroids)
2x Ground units (animated & variations)
3x Ground buildings
2x Defense buildings (animations)
Dynamic walls with gates
Terrain

Dynamic tiles & variations
Road tiles

Character Portraits

9 different portraits + animated "TV noise" variation when a portrait is not available

UI Elements

Player portrait box
Player health bar pieces
Boss health bar
3 variations of dialog boxes (full & 9-patch version included)

20x Effects

Boosters, destroy FX, projectiles…

7x Pickups

powerups & bonuses with variation

You can combine most of the sprites & effects together in-game to make unique animations and sprites. And with a bit more effort, you can even create your very own creations by combining existing pieces inside any graphics software to create new sprites.
NOTE: Font from the previews is not included!
=========== Format ===========
Asset pack includes 2 sprite-sheets with transparent & pink background
===== Customize the colors yourself =====
All assets are using only 4 colors and by changing any of the colors, you will get a new variation of the tileset while keeping the stylized look. Color options are not part of the package but you can do this easily with almost any graphics software or by using shaders in your game.

Purchase
In order to download this asset you must purchase it at or above the minimum price of $10 USD. You will get access to the following files:
MinimalistSpaceShooter-v1.0.zip
53 kB
Comments
Log in with itch.io to leave a comment.
Thank you for the asset. Any advice on how I would split it in unity? 16x16? 32x32?
So below, what I've created using your great assets.
To play, that's here :
Just bought it. Nice work, love the style, trying to make a little game with it.
Thank you, glad you like it! Let me know if you create something and feel free to post gifs/screenshots :)
There are always some here and there but nothing planned ahead. Follow this to stay updated!

Hi there! This asset pack looks great!
May I ask what are the conditions and/or license is applied to this pack?
Thank you!
Hi, thank you! :)

You are free to use it for multiple commercial or free projects that YOU are working on.

Redistribution of the asset is forbidden in any way (eg. you can't give it to a friend, share it with some community etc., recolor the sprites and sell it as a new asset etc.).
If there are any other specifics you are interested in please let me know.